Fir State Golf Club was established in 1947 at Seattle's Jefferson Park Golf Course to combat discriminatory practices and, at the same time, to promote access to golf within the minority community. An important part of the club's mission was to stimulate interest and participation of young people in the game.
Perhaps the most successful alumnus of the Fir State program is Bill Wright. In winning the 1959 U.S. Amateur Public Links Championship, Wright made history by becoming the first African-American to win a USGA national championship. Bill was one of the first participants in Fir State's junior golf program at Jefferson Park in the 1950s, and within a year after picking up the game he was the city's Junior champion.
Bill was introduced to the game by his parents, Bob and Madeline, who were early members of Fir State Golf Club. The Wrights were part of a racially-mixed group of golfers who joined forces in response to closed-door policies of the city clubs, which denied membership to minorities. While they were allowed to play at the city courses, minority golfers could not compete in tournaments because membership in a recognized club was required.
Unable to compete in or hold their own tournaments locally, Fir State members conducted competitions out of town, usually in Portland. When the club was finally able to hold a local event in 1951, at Seattle's Glen Acres Golf Course, Bob Wright took second-place honors.
Bill earned athletic honors in golf and basketball at Western Washington State College (now University), winning the NAIA collegiate individual golf championship in 1960, and is a member of WWU's Athletic Hall of Fame. He competed in the 1959 U.S. Amateur and was a member of the 1959 Hudson Cup team. He briefly ventured onto the professional tour, and played in the 1966 U.S. Open. He has qualified for five U.S. Senior Opens, and has been enshrined in the USGA Museum in Far Hills, N.J.
The USGA, WA Golf, First Tee of Greater Seattle and Jefferson Park GC declared October 10, 2009 as "Bill Wright Day" to honor the 50th anniversary of Bill's historic victory in the U.S. Amateur Public Links. Wright still teaches golf a few days a week at The Lakes at El Segundo (Calif.) course.
In 2013, Wright was inducted into the Pacific Northwest Golf Hall of Fame.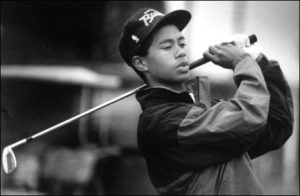 Other Fir State juniors have achieved success in amateur and professional ranks. Thaddeus Gray was the first black golfer in the Northwest to earn a full professional membership in the PGA. In 1981, Ryan Jackson was accepted into the PGA as an apprentice professional at Jefferson Park Golf Course. His brother Landon Jackson became the first African-American assistant golf professional at Pebble Beach. Fir State juniors Tyson LaNore and Adonis Ducksworth each won the Seattle High School Metro Championship. Andia Winslow became the second Fir State junior to earn a spot in the Maxfli tournament, and later competed in an LPGA event. Kristen Tan won the 2008 individual Class 3A state tournament and led her Holy Names team to a 2009 championship, earning third place individual honors.
The Fir State Junior Golf Foundation is the non-profit, 501c3 charitable arm of the Fir State Golf Club. The Foundation continues the Fir State legacy of "Investing in Our Future Through Golf," by not only operating a free junior golf program, but awarding scholarships to college-bound junior golfers. The Foundation's primary fundraising event, the Celebrity Challenge Golf Tournament, was first hosted in 1992 by a young Tiger Woods. Since then, hosts have included Ken Griffey Sr., Birdie Griffey, Nate McMillan, Dale Ellis, Mike Cameron, Bruce King, and Warren Moon.