by Craig Smith
As Wayne Golf Course in Bothell, Wash. closes, so closes a chapter in so many lives, now giving way to memories.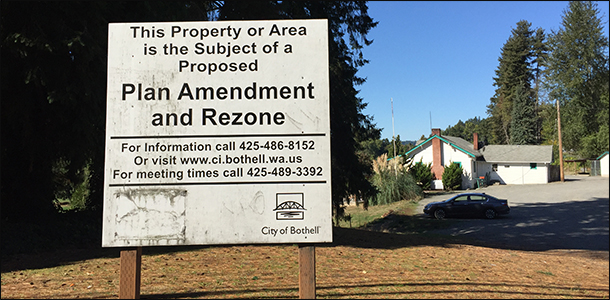 In a way, it was like visiting a longtime friend who was about to die. But the visit was to satisfy me, not comfort the doomed.
In five days, Wayne Golf Course in Bothell was going to close forever on its way to becoming a regional park where people will walk dogs, open picnic baskets and admire the Sammamish River.
I first played Wayne in the late 1950s as a teenager growing up in nearby Kenmore. Now, with my 36-year-old son, I was going to play the front nine for the final time. I didn't want to bother with the inferior and shorter back nine that opened in 1964. To me, Wayne has always meant the 2,674-yard, par-34 front nine that opened in 1931.
Earlier that day, I had been in the men's locker room of the gym I belong to in Juanita and seen a friend, Tommy Griffith, who plays golf. I had thought about telling him, "Hey, Wayne is going to close in five days," but decided against it. He only plays upscale courses, I told myself.
But as my son Stuart and I were standing on the second green, who was that on the nearby ninth green? Tommy and his wife, Beth.
He was quick to talk about Wayne.
"I played a lot of golf here with my boys," he said, referring to his now-college-age twin sons. "It was always a lot of fun. I've got a lot of good memories here."
He isn't alone.
The most intense golf course debate I've ever been involved in was in the back of the bus on a golf writers' junket to Victoria, B.C. Jim Moore, the former sportswriter of the now-defunct Seattle P-I who has since evolved into a radio celebrity, and I were defending Wayne.
"The front nine is fun!" Moore declared and I joined him. Golf purists shook their heads and declared it to be barely above a pasture in quality. Shortcomings that couldn't be denied included terrible drainage, lack of length and absence of bunkers.
Nonetheless, I always maintained that there wasn't a bad hole on the front nine and actually three good ones – the par-4 fifth that crossed the river, the steep downhill par-3 seventh and the long par-3 ninth that re-crossed the river.
I don't have much to say about the par-31, 1,652-yard back nine. Once described as "an after-thought," it is best remembered for the 172-yard par-4 12th hole. Yes, a 172-yard par-4. The hole is a par-4 because the prudent play is for a layup shot before going for the elevated green that is mostly shielded from the tee. The back nine ended with the 97-yard 18th hole on the clubhouse side of the road. In dry months, it was tempting to wonder if you could reach the green with a good throw.
The course was part of the Northshore community. When golfers in my Bothell High School class of 1963 were deciding where to have the golf outing for the 50th class reunion, the answer was simple.
"We're from Bothell," someone said. "That means Wayne." (Important note: The day's long-drive winner is writing this article).
I always found the unpretentious clubhouse to be friendly. The course bordered the Burke-Gilman Trail and it wasn't unusual for a thirsty cyclist or two to sit at the bar near golfers who were settling bets.
Good golfers have their Wayne memories, too. Jeff Gove, who now plays on the PGA Tour and Web.com Tour, grew up in Kenmore and played for Inglemoor High School, which gets to play at private Inglewood Golf Club. One year when he was playing in the Washington Open Invitational I asked him, "Jeff, tell me about playing Wayne."
"I'm not going to say anything bad," he replied. "I got my first hole-in-one there." (On the back nine.)
The course's bridges over the Sammamish River were obstacles to be avoided in the old Sammamish Slough outboard races from the 1930s into the 1970s. The river was in play on five of the opening nine holes.
I always felt comfortable taking advanced beginners to Wayne. If you suddenly found serious, talented golfers bearing down on your group, you didn't have the usual anxiety and rushed sense of obligation to speed up dramatically. Instead, my reaction was, "Okay, if you guys are so good, what are you doing here?"
Sadly, the Waynes of the world are vanishing. Affordable public courses, ideal places for beginners or casual golfers to play, are being turned into housing developments or parks in the Puget Sound area. Wellington Hills ("No Frills, Wellington Hills" as one co-operator once described it) in nearby Woodinville closed in 2012.
I sprayed the ball on my final round at Wayne but I played one hole decently – the last one. My tee shot stopped just off the back of the green on No. 9. I chipped to three feet and made the putt to save par. As a senior citizen, I had paid $13 for my nine holes and thoroughly enjoyed it.
I left with a smile, but was saddened at the thought that six days later no fathers and sons would play the course as Stuart and I just had just done.
---
Before retiring from The Seattle Times in late 2008, Craig Smith penned a popular high school sports column under the byline "Sideline Smitty" as well as being the newspaper's golf reporter, and he still contributes to the paper's golf section. In 2009 he received the Distinguished Service Award from the Northwest Golf Media Association. A former caddie at Inglewood Golf Club Kenmore, Wash., Craig remembers shooting 142 the first time he played, and grew up playing the now-fabled fairways of Wayne Golf Course.