The 11th Washington Men's Mid-Amateur Championship is being held August 27-28 at McCormick Woods Golf Club in Port Orchard, Wash. The 36-hole stroke-play championship is being conducted by Washington Golf (WA Golf).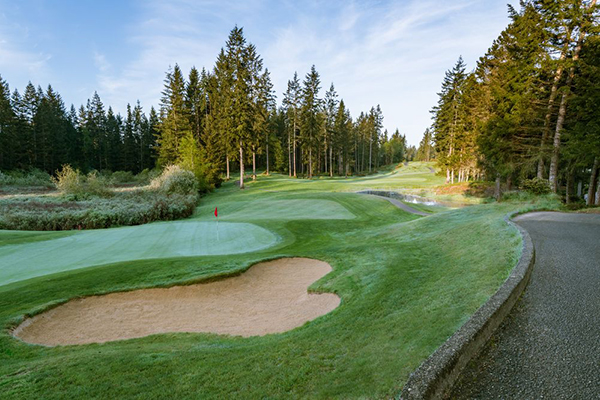 Championship links:
The first tee time for the first round is 7:30 a.m. on Thursday, August 27. To join the conversation on social media, follow @PlayWAGolf on Instagram and Twitter.
Last year, Erik Hanson of Kirkland won this championship, held at Mill Creek (Wash.) Country Club. It was the first Washington State title for Hanson, who has won eight Pacific Northwest (PNGA) titles. He had twice finished runner-up in the Washington Men's Mid-Amateur, in 2015 and 2010, before breaking through for the title last year. Hanson is in the field again this year, attempting to defend his title.
Other contenders in the strong field of players include:
Reid Hatley (Hayden Lake, Idaho) – two-time winner of this championship (2016, 2018) who also won last year's Washington Men's Amateur. Hatley has been named the Washington Men's Mid-Amateur Player of the Year the past five years in a row.
Jordan Babineaux (Renton) – played safety for the Seattle Seahawks from 2004-2010.
Bjorn Bjorke (Port Orchard) – the general manager of host course McCormick Woods, and who won this championship in 2013.
Carl Jonson (Seattle) – finished runner-up in 2012 Pacific Northwest Men's Am, was semifinalist in 2013 Pacific Northwest Men's Am. Played four years on UNLV men's golf team.
To be eligible, contestants must by 25 years of age or older by August 27, 2020. Competitors must have an active GHIN number and USGA Handicap Index issued by a WA Golf member club not exceeding 9.9 at the time of entry.
Founded in 1922, WA Golf is a 501c4 non-profit, amateur golf association governed by men and women volunteers. Serving nearly 70,000 individual members at more than 550 member golf clubs and 270 golf courses throughout the state of Washington and Northern Idaho, WA Golf works to continually expand the game of golf to people of all backgrounds. WA Golf also serves as a statewide representative of the United States Golf Association and works closely with a number of allied associations within the golf industry for the betterment of the game.